To help him walk independently to the plane, of course!
Meet "Blind John's" Guide Dogs
John had two guide dogs during the time he was skydiving. It's probably important to note at this point that he did not have the dogs jump out of planes with him, so there is no need for folks to write us angry letters. 🙂
Kiowa
John and Kiowa were well known among skydivers. They loved playing practical jokes at the drop zones. One of their favorite pranks was having a sighted person in the passenger seat of the van steering while John sat behind the wheel with Kiowa by his side. Imagine the newbies' faces when they saw John pull up and get out of the van with his guide dog and cane.
Based on Kiowa's big smile in this picture, it looks like she enjoyed playing these games as much as John  and his skydiving buddies did. She is fondly remembered at the drop zones.
Tia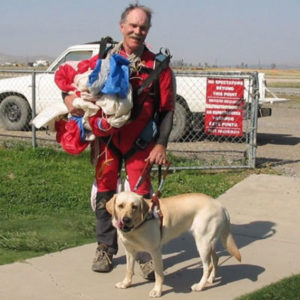 John was also known to get strangers' attention by having  his guide dog walk him and his cane up to the door of the plane. For those who didn't know what a skilled skydiver John was, this caused some alarm!
Here's Tia, John's last guide dog, helping John navigate Skydive Perris. Tia was a sweetheart who made friends wherever she went.
Kiowa and Tia Weren't Just Guide Dogs, They Were Family
Want to Hear More Hilarious Stories about Blind John?
We have lots more, which we will include in the full-length documentary about John's adventures skydiving while blind. But we can't do that without your help. Please, give what you can to support our production costs at GoFundMe/BlindJohnMovie.